---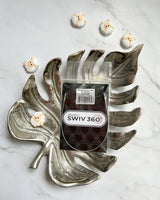 ChiaoGoo Swiv360 Silver Cable for interchangeable needles | Small [S]
ChiaoGoo
Regular price €10,80
Tax included.
Shipping
calculated at checkout.
 combination of the famous patented Chiaogoo Red Twist cables (with their unique memory-free effect) with the rotating Chiaogoo SPIN cables. The result: Swiv360 Silver cables is definitely the best cable for interchangeable needle available.

S cables are suitable for needle tips from 2,75 mm (US 2) up to 5 mm (US 8).